CALZONES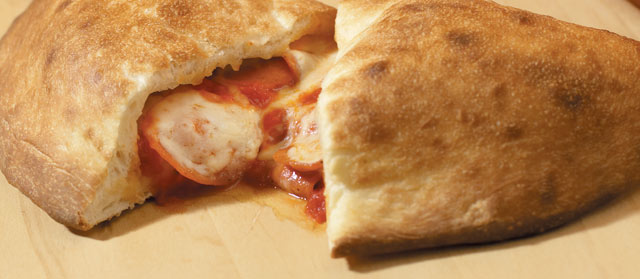 Pepperoni

$11.95

Stuffed with pepperoni, pepperoni, pepperoni & mozzarella cheese.

Vegetarian

$11.95

Tomatoes, Spanish onions, green peppers, mushrooms, black olives & mozzarella.

Meatzza

$11.95

Pepperoni, salami, bacon, ground beef, Italian sausage & mozzarella cheese.

Bacon Cheeseburger

$11.95

Canadian bacon, cheddar & mozza cheese, with tons of ground beef.

Donair

$11.95

Donair meat, tomatoes, Spanish onions, mozzarella & donair sauce on the side.

BBQ Chicken

$11.95

Loaded with roasted chicken, delicious BBQ sauce & mozzarella cheese.

Canadian Classic

$11.95

Pepperoni, mushrooms & bacon. And lots of mozzarella cheese!

Create Your Calzone

$11.95

It's all good! Choose your favourite 5 toppings!
The Calzone is an Italian oven baked folded pizza that is believes to have originated in Naples, Italy. The Calzoneis a salted, little half-moon baked pie thatwill surprise you with it's filling each time you take a bite. Calzonesare popular around the world for its taste and perfect hand-holding size. You can certainly not miss if you order a Calzone from an Italian menu. The best thing about the Calzone is that first bite you take!
The pizza dough, cheese and fillings used in our Calzones is something you will enjoy. Brace yourself as we present to you our perfectly baked Calzones. Relish the flavors, fillings, and the perfectly baked golden brown crust that will surely remind you of the original taste of an authentic Italian Calzone. Try dipping your Calzone in our creamy ranch sauce, have it filled with pepperoni, Donair meat, Canadian bacon, mushrooms, roasted chicken or you name it – we'll get your Calzone filled up for you you're your choice of toppings plus perfectly melted mozzarella cheese.
At Sicilian Pizza Donairs Subs, it is all about presenting our customers with the finest taste of Calzones in Halifax. Our golden-brown Calzones are perfect for an evening snack as well as an accompaniment to our donairs, salads and wings. You can choose from our vast range of toppings as part of our Calzone menu that is here to lure the vegetarians as well as the hard-core meat lovers. We understand that the choice of filling vary from person to person. Create your own Calzone now by choosing your favorite 5 toppings. Isn't that an awesome deal!