GARLIC FINGERS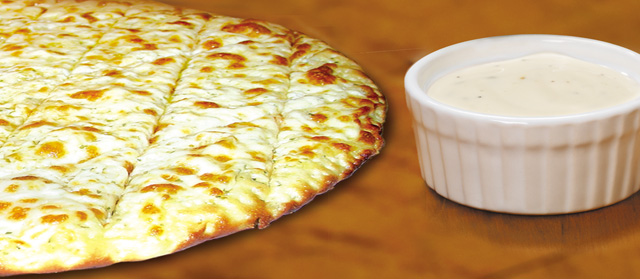 Garlic Fingers

S - $11.95, M - $15.95, L - $17.95

Our delicious garlic butter crust & topped with mozzarella cheese.

Greek Garlic Fingers

S - $12.95, M - $16.95, L - $19.95

The Original, plus feta cheese, black olives & sprinkled with oregano

Canadian Garlic Fingers

S - $12.95, M - $16.95, L - $19.95

Garlic butter crust topped with rich cheddar, bacon & mozzarella.

Triple Crown Garlic Fingers

S - $12.95, M - $16.95, L - $19.95

Way cheesy! Garlic butter crust loaded with cheddar, parmesan & lots a mozza!
Is there anything better than the combination of bread, cheese, garlic, and herbs? We don't think so! This Atlantic Canadian specialty is mind-blowing and is sure to be everyone's favourite. Crisp and hot freshly made garlic fingers delight every food lover. These garlic fingers made with freshly prepared dough, coated with rich and delicious garlic butter, take your eating experience to a whole new level.
The fluffy, chewy and creamy garlic bread is here to romance your taste buds. We bring together our experience and secret recipe to present you with perfect flavors that help to deliver the finest garlic fingers in Halifax. You are surely going to taste buttery, cheesy, crusty goodness in just one bite.
Sicilian Pizza Donairs& Subs is known for preparing excellent quality dough which is baked to perfection with loads and loads of melty cheese for our customers. The flavors of herbs, garlic, and butter altogether make it a perfect side order for any kind of meal.
We also offer specialty garlic fingers, like our Greek garlic fingers with black olives, sprinkled oregano, topped with rich cheddar, parmesan and lots of mozzarella cheese. Garlic fingers are perfect for snacking or to make a light meal more satisfying you can also order it alongside your favorite main course meal.