AWARD WINNER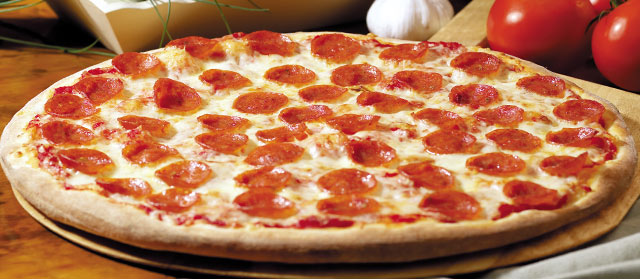 S

(4 slices)

11.95
M

(6 slices)

15.95
L

(8 slices)

19.95
Our Famous Pepperoni

Pepperoni, pepperoni, pepperoni & lots of mozzarella cheese.
THE CLASSICS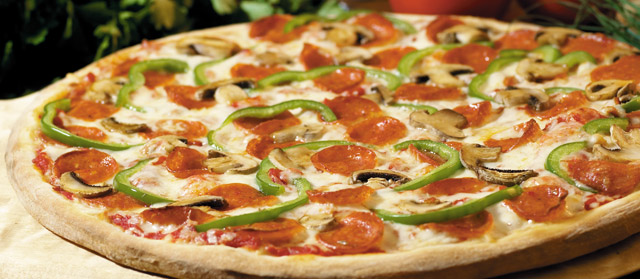 S

(4 slices)

12.95
M

(6 slices)

17.95
L

(8 slices)

22.95
Hawaiian

Ham, pineapple & extra mozzarella cheese.

Canadian Classic

Pepperoni, mushrooms, bacon & mozza, eh.

Roasted Garlic & Sundried Tomato

Roasted garlic & sundried tomatoes, with our famous pizza sauce & mozzarella cheese. Awesome!

Bacon Double Cheesburger

Bacon & ground beef, covered with cheddar & mozzarella cheeses.

Hot & Spicy

Pepperoni, tomatoes, mozza, plus chili & banana peppers for the brave.

Vegetarian

Delicious tomatoes, green peppers, Spanish onions, mushrooms & mozzarella.

Italian

Zesty tomato sauce, pepperoni, Italian sausage, mozzarella cheese & black olives

The Sicilian Works

Pepperoni, mushrooms, Spanish onions, green peppers, bacon & mozzarella.
SPECIALTY PIZZA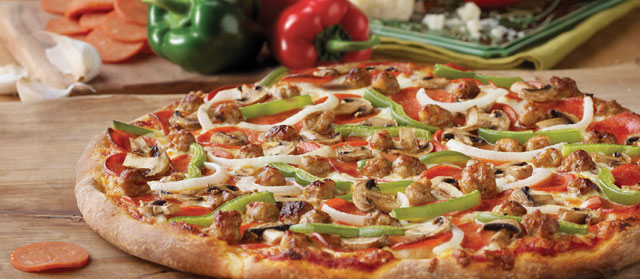 S

(4 slices)

13.45
M

(6 slices)

18.95
L

(8 slices)

23.95
Greek

Tomatoes & Spanish onions, mozzarella & feta cheeses, topped with sliced kalamata olives & oregano.

Bella Roma

Roasted red peppers, artichoke hearts, sundried tomatoes, with our awesome sauce & mozzarella.

Donair

Donair meat, tomatoes, Spanish onions, mozzarella cheese & sweet donair sauce.

BBQ Chicken

Our special BBQ sauce & roasted chicken, smothered in mozzarella.

Meatzza

Big hunger? Pepperoni, Italian sausage, bacon, salami & ground beef with mozzarella cheese.

Tuscan

A taste craze: tomato sauce, roasted garlic, sundried tomatoes, roasted chicken & mozzarella & feta cheeses. Authentico!

Sicilian Supreme

It's stacked! Pepperoni! Spanish onions! Green peppers! Mushrooms! Ground beef! Italian sausage! Mozzarella cheese!

Chicken Bianco

Our light & delicious white sauce, tender chunks of roasted chicken with fresh mushrooms, Spanish onions & mozzarella cheese.

Pepper Jack

Tomato sauce, lots of pepperoni & roasted red peppers with a blend of mozzarella & Monterey Jack cheese.
Can you think about a party without pizza topping the menu list? The obvious answer is no! Over the years pizza has become the 'cult favorite' and tops everyone's favorite food list. This Italian dish is well known around the world for its taste and unique toppings. The mouth-watering slice of pizza is something we just can't miss. It is a perfect dish to serve your taste buds at any point in time. Breakfast, brunch, lunch, snack, dinner or 2 o' clock in the morning, pizza is always the satisfying option.
Sicilian Pizza Donair& Subs is known for its authentic Italian flavors and taste - perfect thin crust made with freshly prepared dough, handpicked fresh and healthy toppings and ingredients. We freshly prepare our own dough every day. The pizza is cooked in quality ovens and hand tossed to perfection by our experienced chefs who bring together their years of experience in pizza making back to the kitchen. Our crust is perfectly crispy with just the perfect chew.
Our award-winning pepperoni pizza is famous among our regular customers and is a must tryfor anyone new to Halifax. Other than that we also present to you pizza specials in Halifax that include the Canadian Classic Pizza, Bacon Double Cheeseburger Pizza, Vegetarian Pizza and our famous Sicilian Works Pizza. Each one is tossed to perfection and topped with fresh premium ingredientsto make your pizza tasteamazing.
With the perfect blend of experienced chefs and experience, we bring to you our mouth watering specialty pizzas that will surely delight your tastebuds!