WINGS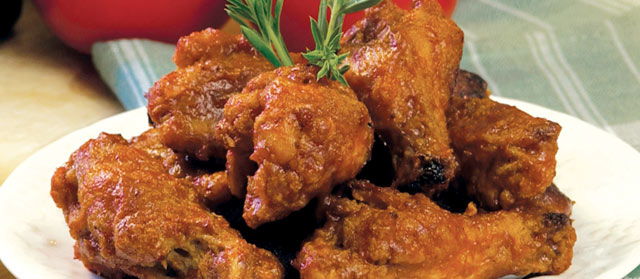 8 Pieces

$7.95

16 Pieces

$14.95

Choose your flavour: Roasted Garlic & Pepper, Sweet & Spicy Thai, Maple BBQ, Honey Garlic, Cajun
A great appetizer or full course meal,chicken wings can fill your stomach in the most delicious way. A complete fulfilling snack - a tailgate serving to delight everyone's taste buds is here. Wings are perfect for parties and get-togethers as they taste amazing!Fried until crispy and then tossed in our exclusive sauces,wings are some of our most popular sides.
The best wings in Halifax are not just about roasting or frying the wings.Sicilian Pizza Donairs&Subs is here to help you enjoy the 'cult favorite' dish in the most amazing way. If you are a person who likes authenticity and traditional flavors then you are certainly at the right place.
Our crispy and tender wings are here to blow you away. These chicken wings are prepared with utmost precision to attain the perfect crisp and juiciness. You can choose your sauce flavours with favourites like our Roasted Garlic& Pepper rub, Sweet & Spicy Thai, Mapple BBQ, Honey Garlic, and Cajun spice. Our wings are doused with fresh sauces and your favorite flavors. These addictive and mouth-watering chicken wings in Halifax are surely going to impress you with their incredible taste. We use the best quality oil to fry our chicken wings- our chefs are very particular about not over or under frying the wings to insure perfect tenderness and crispness.
We are pleased and thrilled to provide our happy and loyal customers with chicken wing delivery that arrives to your Halifax doorstepin no time.